Solutions Around the Home and Beyond
Wellsford Cabinetry is well-built, looks great, and makes your life easier. We offer a variety of accessories from drawer dividers to mixer lifts and pull-out work spaces. Your designer will assist in positioning the accessories so they are located in the right spot for your needs.
Easily find the items you're looking for, and no need to turn on all the lights when reaching for a midnight snack. It's also great for dramatic presentation.
You love your slow cooker, stand mixer, and bread maker, but they are challenging to store, and you want them handy without taking up counter space. We design cabinetry around your storage needs and can create a space just for the appliances you want handy but out of the way.
A Recipe for Joy in the Kitchen
Cooking is even more enjoyable when you know exactly where to find everything. Need a ladle as the sauce starts simmering? It's in easy reach. The perfect spice? It's right there. This stress-free organization can be yours with a custom cabinet space in your kitchen.
Backpacks, shoes, and jackets have a place
We've been there — your kids decide the best place for shoes is the living room floor and backpacks and jackets end up at the kitchen table. Establish a storage system for the kids with cubbies in the mud room or entryway.
Do your cords seem to go missing on a daily basis? Designate a charging station with help from an intelligently designed cabinet space with easy access to outlets.
A family communication station
How many times have you been running late just to discover keys and wallet aren't where you'd expect them to be? Integrate a white board or cork board with cabinets in your kitchen to act as a place for reminders or meal planning. We provide creative storage solutions to help reduce countertop clutter.
Create the library of your dreams
You're what they'd call a book collector and avid reader, so you need an area where you can store and organize your treasured books. Our custom shelving and cabinets make your office.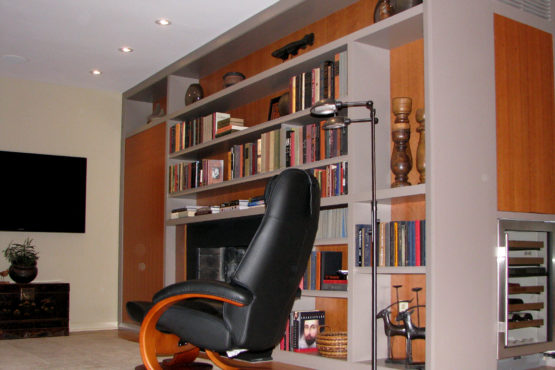 How Can We Make the Home More Efficient?
These ideas are just the beginning of what we can do to make your home a better organized and more appealing place. Contact your Wellsford Dealer to get started. We do more than just cabinetry!